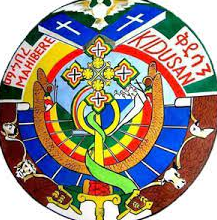 Tigray has banned Mahibere Kidusan. No official statement has been issued in this regard so far. But several sources familiar with developments in this regard have confirmed that Tigray wants to stop all activities of the organization.
Mahibere Kidusan is a Christian religious organization that started as a religious movement more than three decades ago. It started its work in educational institutions to promote the church to the younger generation, forming various associations.  Later the society devised a strategy to expand its apostolic mission and achieve its goals and see the Church play a leading role in the social change of its people.
The stated objectives of Mahibere Kidusan are:
ORGANIZE YOUNG PEOPLE STUDYING IN highter education institutes UNDER THE AUSPICES OF THE ETHIOPIAN ORTHODOX TEWAHEDO CHURCH TO LEARN ABOUT THE BELIEFS, RITUALS AND TRADITIONS AND TO BE THE SUCCESSORS OF THE FATHERS.
TO SPREAD THE TEACHINGS OF THE CHURCH TO THE NEXT GENERATION IN ORDER TO PRESERVE THE FAITH AND ORDER OF THE CHURCH AND PASS IT ON FROM GENERATION TO GENERATION.
DISSEMINATE THE DOCTRINE OF THE GOSPEL THROUGH VARIOUS MEANS THROUGH MAGAZINES, NEWSPAPERS, PAMPHLETS, CASSETTES, ETC.
FACILITATE THE NEED FOR THE EDUCATED CLASS TO SERVE THE ETHIOPIAN ORTHODOX TEWAHEDO CHURCH FINANCIALLY, INTELLECTUALLY AND PHYSICALLY.
ENCOURAGE AND ASSIST THOSE WHO STUDY THE ORTHODOX TEWAHEDO CHURCH, ESPECIALLY YOUNG SCHOLARS.
Mahibere Kidusan states that it has no political agenda. It only wants to promote religious teachings to Christians, especially young boys, and girls.
But pro-Tigray analysts have long been accusing the organization of having a political agenda. Tigray's criticism of the Ethiopian Orthodox Church and Mahibere Kidusan grew rapidly after the start of the Tigray Ethiopia war in November 2020. The conflict is still going on with frequent drone strikes on several parts of Tigray. Read more
Some Tigray-backed news sources unequivocally accuse Ethiopian Orthodox Church, Mahibere Kidusan, and Amhara leaders of working jointly on an anti-Tigray agenda. They say that Mahibere Kidusan has been spreading hatred against Tigrayans in educational institutes and it has a political pro-Amhara agenda.
Reportedly now Tigray government and Tigray church elders have decided to stop all activities of the organization in Tigray. It will not be allowed to operate in Tigray's universities and other higher educational institutes.
Daniel Kibret, a former prominent member of Mahibere Kidusan, has been seen delivering fiery speeches against Tigray People's Liberation Front (TPLF) in recent months. Though he is not an office-bearer of the organization now, he is said to be in touch with the organization.
Not only is Mahibere Kidusan being banned in Tigray, but Tigray church elders seem to be distancing themselves from Ethiopian Orthodox Tewahedo Church (EOTC).