Sudan army blocked a UN convoy from entering Ethiopia. The incident happened at Qalabat border crossing on Sudan-Ethiopia border.
This week, Sudan accused Ethiopian army of having executed 7 Sudanese soldiers who were in the custody of the Ethiopian army. Sudan vowed to retaliate and announced to lodge a formal complaint with UN Security Council against Ethiopia.
Ethiopian Foreign Ministry denied the allegation stating that the incident happened on June 22. But it did not involve Ethiopian army. Fighting occurred between Sudan army allegedly supported by Tigray People's Liberation Front (TPLF) fighters and an Ethiopian militia.
Sudanese army retaliated by launching artillery strikes on some Ethiopian army positions in border areas. Ethiopian Prime Minister Abiy Ahmad, in a message in Arabic language, urged Sudan to resolve the outstanding issues peacefully.
Since the start of flareup of tensions, Sudan closed Qalabat border crossing which is in the area of conflict. Reportedly Sudan refused to allow a UN Peacekeepers convoy to enter Ethiopia through Qalabat crossing this week.
The convoy consisted of dozens of trucks and other vehicles carrying food and other items. But Sudan army stopped the convoy from entering Ethiopian territory.
Last year, after the start of Tigray conflict, Sudan retook much of Fashaga farms. Fashaga, 260 square kilometer fertile strip of land on Sudan-Ethiopia border, has been a disputed territory for years between the two countries. Sudan took advantage of Ethiopian army's engagement in Tigray and retook around 95% of Fashaga farms.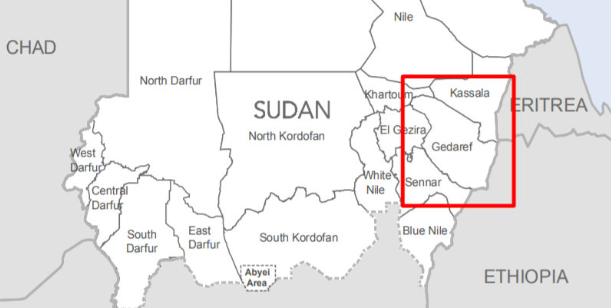 Since last year, several bouts of violence have been seen over Fashaga farms involving forces, militias and farmers from both sides. Since last year, Sudan-Ethiopia relations have remained strained. Read more..
The two countries are locked into a dispute over Grand Ethiopian Renaissance Dam (GERD) too. Ethiopia is about to start the third filling of the dam in coming days. Sudan and Egypt have been objecting to the construction of the dam which is situated in Benishangul Gumuz region of Ethiopia.
Last year, Sudan wrote to UN requesting removal of Ethiopian peacekeepers from Abyei. The United Nations Interim Security Force for Abyei (UNISFA) is a United Nations peacekeeping force in Abyei, which is contested between the Republic of Sudan and the Republic of South Sudan. UNISFA was approved in June 2011. Ethiopia was the largest contributor to UNISFA.
African Union in a statement this week urged Sudan and Ethiopia to resolve their disputes through dialogue.