Somali President Hassan Sheikh Mahmud today visited under training Somali soldiers in Eritrea. On Saturday, he arrived in Eritrea on 4-day official visit. Hassan Sheikh Mahmud was elected Somalia's President on May 15 this year. Read more..
Since last year, UN Special rapporteur on Eritrea and other sources have been claiming that Eritrea deployed under training Somali soldiers to fight in Tigray. Some leaders of Tigray People's Liberation Front (TPLF) have also been making similar claims since the start of Tigray conflict in November 2020.
Eritrean and former Somalia's government led by Abdullahi Farmajo vehemently denied these reports.
Eritrean Information Minister, Yemane Gebremeskel, today in a tweet confirmed Hassan Sheikh Mahmud's meeting with Somali soldiers.
"President Hassan Sheikh Mahmud also visited & inspected parade of the members of Somali National Army who received 3-year military training in Eritrea. Representative of trainees paid tribute to rigorous programe of training & lessons they have gleaned for building cohesive/united State", he said.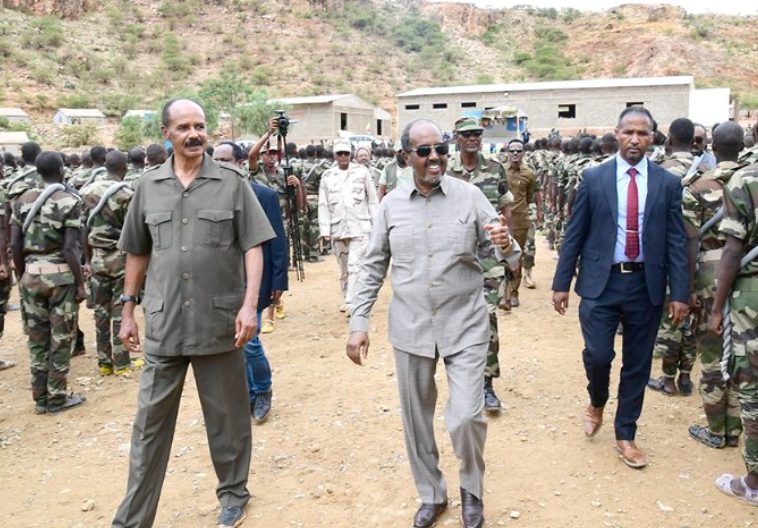 Eritrean state media showed pictures and videos of Somali President Hassan Sheikh Mahmud inspecting the training of SNA soldiers in Eritrea. Hassan Sheikh and Eritrean President Isaias Afwerki addressed the soldiers too.
"Pre. Hassan congratulated the trainees for completing rigorous training program & underlined contributions they are expected to make in bolstering the SNA. President Isaias for his part expressed Eritrea's honor & pride in the endeavor that reflected special & historic bilateral ties", stated Eritrean Information Ministry in a statement.
Last week Villa Somalia denied rumors that Eritrea was demanding millions of dollars as expenditure on the military training of SNA soldiers.