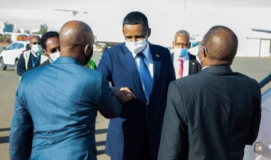 A top Sudan Army General has arrived in Ethiopia. Lieutenant General Mohamed Hamdan Dagalo, also called Hemedti, today started his 2-day official visit to Ethiopia.
Hemedti is vice chairman of Sudan's top body i.e. Sovereignty Council. He is seen as a close ally of Sudanese Army Chief Abdul Fattah Al Burhan.
He is visiting Ethiopia while Ethiopia-Sudan relations are marred by mistrust and mutual accusations. After the start of Tigray Ethiopia conflict in November 2020, tensions rose on the Sudan Ethiopia border. Sudanese forces took advantage of the situation and took control of Al Fashaga. Al Fashaga, a fertile strip of land, has been a disputed territory between the two countries for years.
Ethiopian forces could not launch a large-scale counter-attack on Al Fashaga as they were fighting a deadly civil war in Tigray. But border skirmishes between Amhara militias and the Sudanese army over Al Fashaga have been going on since then.
Ethiopian Federal Government and Amhara Regional Government, on more than one occasion in the past year, accused Sudan of backing Tigray People's Liberation Front (TPLF). It was alleged that Tigray fighters were being trained and armed by the Sudanese army for incursions into Ethiopia.
In August last year, Sudan offered to mediate Tigray conflict. But Billene Seyoum, Ethiopian Prime Minister office spokesperson, in a press briefing, rejected the Sudanese mediation office by saying that the two countries lacked trust.
Another major reason behind persisting tensions is Grand Ethiopian Renaissance Dam (GERD). Sudan, Ethiopia, and Egypt were on the brink of a war before the 2nd filling of the dam. Ethiopia completed the filling last July despite threats from Sudan and Egypt.
Two days ago, Ethiopian PM Abiy Ahmad released a statement calling upon Sudan and Egypt to resolve differences about the GERD through dialogue.
Tensions in Sudan-Ethiopia ties were clearly visible in October last year when no top Sudanese leader was seen at the new Ethiopian government's inauguration ceremony held in Addis Ababa. Heads of state from Kenya, South Sudan, Djibouti, Somalia, and several other African countries participated in the ceremony.
Now when General Hamdan Dagalo is visiting Ethiopia, the Sudanese army is under immense pressure at home. For the last 3 months, Sudanese professional bodies, political parties, and other groups have been holding street rallies calling for an end to military intervention in Sudanese politics. More than 60 protesters have been killed in the use of force by Sudanese forces since October last year. Sudanese Prime Minister Abdullah Hamdok resigned last month. So far a new Prime Minister could not be appointed.
General Hemedti's visit could pave the way for diffusing of tensions on Sudan Ethiopia border. Sudanese military, on the back foot at home, could give assurance to the Ethiopian government about remaining neutral in the ongoing Ethiopia-Tigray conflict.
If the Sudanese army decides to remain neutral or starts a crackdown on Tigray fighters and their sympathizers on the Sudan-Ethiopia border, it could lead to more pressure upon Tigray forces which have been forced to retreat from Amhara and Afar regions backing into Tigray.