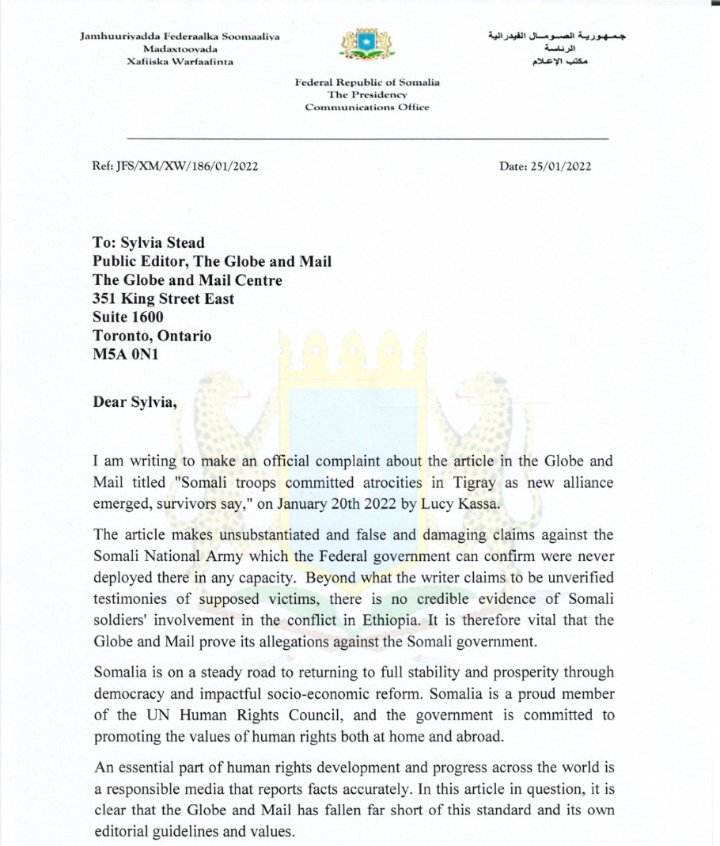 Somalia has demanded an apology from a Canada-based news source i.e. Globe and Mail. Somalia seeks an apology over an article published by the news source on January 20 this year.
The article claimed that Somali troops participated in the Tigray war. It was written by Lucy Kassa, an Ethiopian journalist.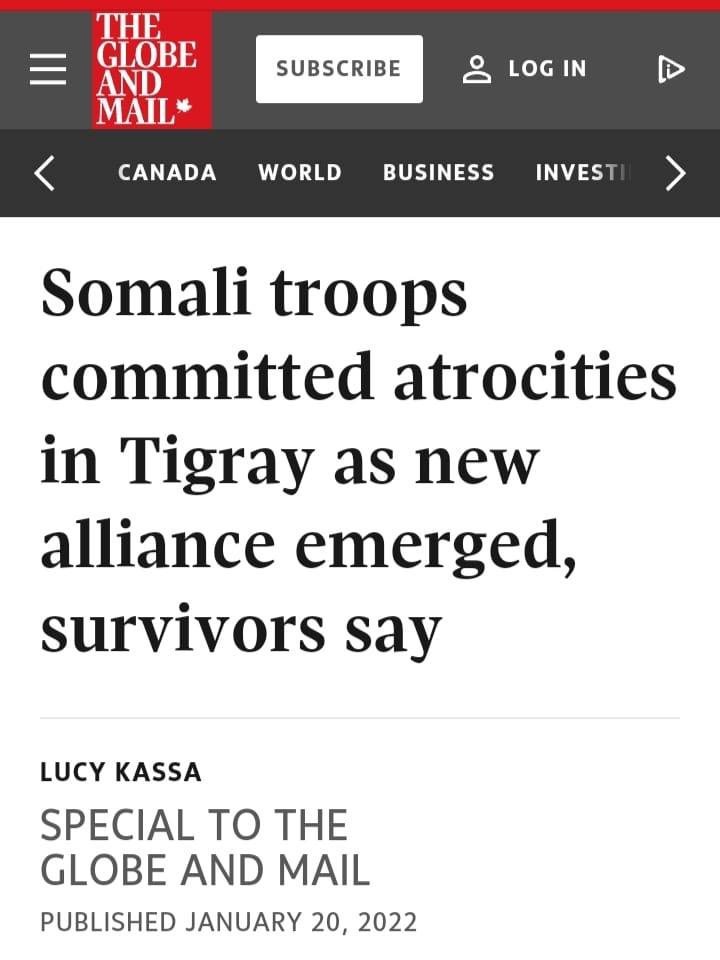 "Up to 10,000 Somali troops were deployed in Tigray, according to current and former Ethiopian officials who spoke to The Globe. The Globe is not identifying the individuals because they face the threat of reprisals for their comments", the article claimed.
Lucky Kassa further said," Until now, few details were known about the activities of the Somalis in Tigray. But the survivors told The Globe that the Somali troops had massacred hundreds of civilians in villages controlled by the Eritrean military, often beheading them. No Ethiopian troops were present in the villages"
Somalia denies the participation of its troops in the Tigray conflict. In the letter written today from Abdi Rashid Mohamed Hashi, Somali Director of Communications in Villa Somalia to Globe & Mail, Somalia rejects that Somali forces took part in the Tigray war.
The letter demands an apology from Globe & Mail and vows to press ahead with legal proceedings.
Speculations have been going around about the presence of Somali troops in Tigray since the start of Tigray conflict in November 2020. The speculations started at the start of last year. In January 2021, Abdisalam Guled, former deputy head of Somali Intelligence Agency NISA ( National Intelligence and Security Agency) said that Eritrea had deployed Somali troops to fight in Tigray.
A UN report in June 2021 mentioned the presence of Somalia troops in Tigray. UN Special Rapporteur Mohamed Abdelsalan Babiker, a Sudanese legal scholar, authored the report. He based his report on observations and information from diplomats, academics, and civil society representatives.
Several news sources have been claiming that Somali troops undergoing military training in Eritrea were deployed by Eritrean forces to Tigray to fight against Tigray forces. Reportedly Eritrea made large-scale arrests of its youth as well to make them serve in the military, as its forces were heavily involved in Tigray. Read more
But on several occasions, Somalia has officially rejected all allegations that its troops were deployed to Tigray. Somalia maintains the position that its troops, in no capacity, took part in the Tigray conflict.