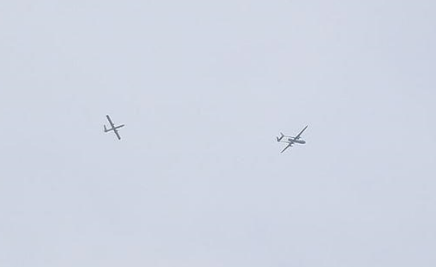 United Arab Emirates (UAE) says three drones penetrated its airspace today but were intercepted and destroyed. An official statement has been issued by the UAE government in this regard.
"MOD (Ministry of Defence) announces interception and destruction, away from populated areas, of three hostile drones that penetrated UAE airspace at dawn today", the statement says.
"MOD confirms it is ready to deal with any threats and is taking all necessary measures to protect the state and its territory."
Earlier attacks last month on the United Arab Emirates were launched from Yemen. But this attack has been claimed by a little-known group called Awliya Wa'ad al-Haq, or The True Promise Brigades, saying it launched "four drones targeting vital facilities in Abu Dhabi" in retaliation for the Emirates' policies in both Iraq and Yemen.
UAE MOD's official statement does not clarify from which direction the drones entered UAE. The social media post by the armed ground does not clarify either the place from where the drones were launched. Some experts say the armed group is based in Iraq and has close ties with Iraq's Katib Hizbullah. Katib Hizbullah, backed by Iran, is on a U.S. list of terrorist organizations and is accused by U.S. officials of targeting American forces in Iraq
Awliya Wa'ad al-Haq had previously claimed responsibility for an attack on Saudi Capital Rayad in January 2021. The Emirates has previously been threatened by Iranian-backed groups in Iraq over their belief the UAE interfered in Iraq's recent parliamentary elections.
Iran-backed Yemen-based Houthi fighters have been battling a Saudi-led coalition that includes the UAE since 2015. The war reached Emirati soil for the first-known time last month when the Houthis fired drones and missiles at the country.
In the first attack, two locations situated in Abu Dhabi state of the UAE were hit. A construction site near Abu Dhabi airport and Abu Dhabi's Industrial Area of Musaffah were targeted. At least three civilians were killed in the attack. Then on Monday, a third missile attack hit the country during a visit by Israel's president John Herzog.
The escalation has threatened the UAE's reputation as a regional hub for international business.
Yemen's Iran-aligned Houthi movement says it will continue to attack the UAE until it stops interfering in Yemen. The UAE has significantly reduced its military presence in Yemen since 2019, but it still projects power via large local forces that it has built and armed.
If it is confirmed that today's drones were fired from Iraq, it would mean that UAE is under attack from two directions i.e. Yemen and Iraq.
The US government yesterday announced to send its warships and fighters jets to support the Gulf state. The US State Department urged Americans last month to reconsider travel plans because of the threat of missile or drone strikes. The United Kingdom warned in a travel advisory on Wednesday that "further attacks are very likely".