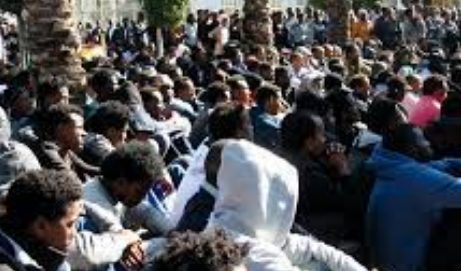 Eritrea is one of those countries where conscription is part of the country's law. Military training and National Service are mandatory for all Eritreans. The defined term of conscription is 18 months.
Several countries like Nigeria, Germany, and Denmark have mandatory national service. Countries like Russia, China, Brazil, Sweden, Israel, and South Korea have active military conscription too. But Eritrean conscription has long been criticized for its indefinite duration. One of the reasons behind a large number of Eritrean youth fleeing the country is said to be the unlimited duration of mandatory military service.
Eritrea has no university. Neither is it working to build any. At the end of school education, each Eritrean boy or girl is sent to SAWA Defence Training Center which is a military academy in the Gash-Barka region of Eritrea. After completing basic military training at SAWA, it is decided whether to send the trainee to serve in the military or to serve in National Service. How long the trainee will serve in National Service is known to the Eritrean government only.
According to some recent estimates, around 10% of the total Eritrean population fled the country in the last three decades and the majority of them were young men.
Eritrean government cites external threats to back mandatory military service. Created in 1991 as it split from Ethiopia, Eritrea fought a deadly war against Ethiopia from 1998 to 2000. More than 100,000 were killed in that war on both sides. Tensions on the Eritrea Ethiopia border persisted in the coming years too. In 2016, Eritrea claimed that 200 Ethiopian soldiers were killed and 300 wounded in a battle at Tsororna.
In 2006, Ethiopia sent troops to Somalia to fight the Islamic Courts Union.
In 2020, the Eritrean army became fully involved in Ethiopia Tigray civil war. The conflict which is still going on has cost tens of thousands of lives on all sides.
Tigray conflict started on the 3rd and 4th of November 2020 and Eritrean infantry, mechanized and armored divisions were part of this war since its very start. Eritrea claims that its forces entered Tigray in response to a missile attack on Eritrea from Tigray on November 14. But Human Rights Watch and UN Human Rights body say that Humera town of Tigray was heavily shelled by Eritrean forces in the 2nd week of November 2020. It shows that Eritrean forces became involved in the Tigray war from its very beginning.
As the Tigray war is still going on, forced conscriptions are on the rise in Eritrea. Human Rights Watch (HRW) today released a report on Eritrea. HRW says that after the start of the Tigray conflict, Eritreans of military age are being arbitrarily rounded up to fill the ranks of the army as it is suffering losses in the Tigray war.
US Embassy in Asmara in several of its recent statements condemned indefinite military service in Eritrea calling it a violation of basic human rights. But Eritrea, with no elections since its creation, is already under sanctions from the US and EU. International pressure can do little to alleviate the suffering of thousands of Eritrean young boys and girls.
Getachew Reda, the spokesperson of Tigray People's Liberation Front, said in a statement this week heavy clashes are going on between the Eritrean army and Tigray forces near Shiraro, Adi Tsetser, Badme on the Tigray Eritrea border. Continued armed hostilities on the Eritrea Tigray border do not bode well for Eritrean youth. As long as the Eritrean army is involved in wars on its borders, there seems no end to forced conscriptions.