US has appointed Mike Hammer has new special envoy to the volatile Horn of Africa region. In around 14 months, Mike Hammer is the 3rd US envoy to the region.
"As Ambassador David Satterfield prepares to step down from the role, I am announcing that Ambassador Mike Hammer will succeed him as U.S. Special Envoy for the Horn of Africa.  I am grateful to Ambassador Satterfield for the experience and determination he brought to the role, and I look forward to the energy and vision that Ambassador Hammer will now lend to our efforts in the Horn of Africa.  His appointment underscores our abiding commitment to diplomatic efforts in the region, most urgently in support of an inclusive political process towards peace, common security, and prosperity for all people in Ethiopia.  This Administration remains firmly focused on a cessation of hostilities, unhindered humanitarian access, transparent investigations into violations and human rights abuses by all actors, and a negotiated resolution to the conflict", said Antony Blinken, US Secretary of State, in a statement today.
In April last year, Joe Biden government appointed Jeffery Feltman as 1st US special envoy to the Horn of Africa. The position was created due to the strategic significance of the Horn of Africa. The Horn attracts international attention due to its major ports, resource potential, and proximity to some of the world's busiest sea lanes.
When Jeffery Feltman assumed office in April 2021, US was facing stiff resistance in advancing its interests in Ethiopia, seen as an anchor state in the region.
Feltman decided to quit at the end of last year. He was followed by David Satterfield who worked for only four months.
Mike Hammer, the new appointee, has earlier worked in Africa as US ambassador to the Democratic Republic of Congo. He served in Bolivia, Iceland, Norway, Chile and Denmark too.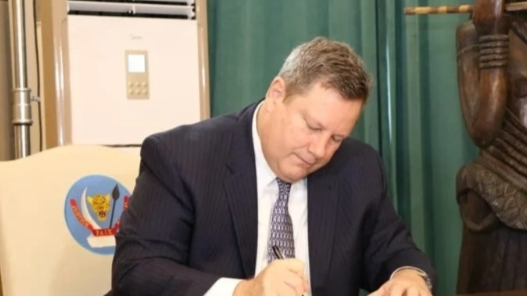 According to some diplomatic sources, special envoys to the Horn of Africa find it difficult to adjust with Mary Catherine Phee (Molly Phee). Molly Phee is serving as Assistant Secretary of State for African Affairs.
Mike Hammer is faced with daunting task of strengthening humanitarian truce announced in northern part of Ethiopia in March this year. Read more..
In Sudan, despite several US warning, political situation is still volatile. US, UN and Middle Eastern countries have been trying to facilitate the start of an inclusive dialogue to end political chaos there.
US foreign policy in the Horn of Africa is being challenged by Russia and China. This year China also appointed a special envoy to the Horn of Africa. Chinese special envoy Xue Bing last month held extensive discussions with leaders in Eritrea, Ethiopia, Somalia and Kenya.