China will hold "Horn of Africa Peace Conference" this month. According to diplomatic sources, China has been planning this conference for the past few months.
In February this year, China appointed Xue Bing as special envoy to the Horn of Africa. US has appointed 3 special envoys to the Horn within the past 13 months or so. Jeffery Feltman was the 1st US special envoy to this region appointed in April last year. He was followed by David Satterfield and Mike Hammer. Read more..
Global powers have their eyes on the strategic Horn of Africa for its natural resources and its proximity to world's one of the busiest maritime routes.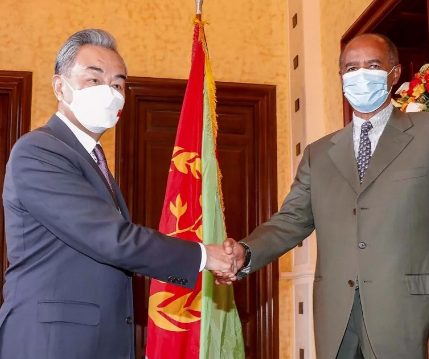 Since his appointment, Xue Bing has held several top level meetings in Eritrea, Ethiopia, Somalia, Kenya, South Sudan and Uganda and Djibouti. Chinese envoy has been engaging region's top leadership for the upcoming Peace Conference.
The Horn of Africa Peace Conference will be held on June 20 and 21 in Addis Ababa, Ethiopian capital. Reportedly African Union and Intergovernmental Authority on Development (IGAD) will also be invited to to attend the conference.
This week, Ma Xinmin, Ethiopian ambassador to Sudan extended invitation to Sudanese Foreign Ministry for participation in the proposed HoA peace conference.
According to Chinese officials, the conference is aimed at promoting peace, stability and good governance in this region.
China is enhancing its influence in the turbulent Horn of Africa region through loans, grants and investments. Ethiopia is one of the largest recipients of Chinese loans and FDI in Africa. Chinese companies are heavily investing in Ethiopia's textile, pharmaceutical, construction and manufacturing industries. China also views Ethiopia as a hub for the Belt and Road Initiative, which aims to expand its commercial influence into the Horn of Africa. Apart from Ethiopia, China has investments in Eritrea, Djibouti and other East African countries too.