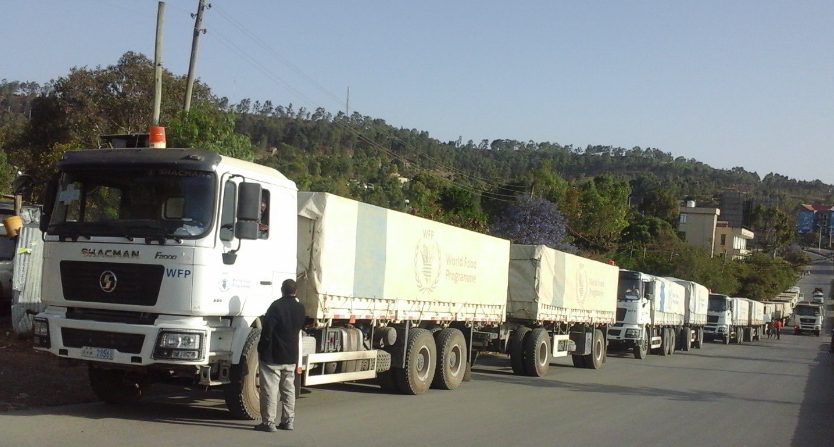 News: Tigray has, at last, started receiving food aid. World Food Program Ethiopia (WFP) has confirmed the entry of the first aid convoy in Tigray for months.
"13 trucks have arrived safely into Mekelle. More trucks & fuel will follow in morning. This is 1st humanitarian convoy to arrive into Tigray region since last Dec. Good progress, much more needed. We need daily convoys flowing in safely to meet the needs of 5 million people", WFP said in a post an hour ago.
It was March 24 when the Ethiopian government declared a humanitarian truce to ensure delivery of aid to Tigray. The Tigray government welcomed the announcement. But doubts were being cast over the implementation of the truce. Aid trucks were to move through the Afar region where Tigray forces have been in control of at least 5 woredas since February this year. Read more..
In two updates issued by Tigray government since March 24, it called into question the Ethiopian government's intention to honor its promise. One of the main hurdles to aid delivery was TDF's continued military presence in the Afar region. But Afar regional government, after deliberations with local, regional and international players, have agreed to let the aid convoys pass through its region while Tigray forces are still in the Afar region.
"WFP & partners thank the Federal Govt & Afar Regional Govt & Afar communities for supporting convoy's safe passage to deliver urgently needed assistance to the people of Tigray", remarks WFP Ethiopia in its latest statement.
The arrival of the first batch of aid trucks is a step long overdue. Since December last year, almost no aid entered Tigray by road. The Ethiopian government did allow humanitarian partners to deliver humanitarian assistance to Tigray by air. But keeping in the view the need of 100 aid trucks in Tigray on daily basis, by air aid deliveries have been far from being sufficient.
Tigray Presidential spokesperson Getachew Reda has welcomed the development. In a social media post he said,"20 WFP trucks have made it to our line of control& on their way to Mekelle. This is one good step in the right direction; the bottom line, though,isn't about how many trucks are allowed but whether there is a system in place to ensure unfettered humanitarian access for the needy!".
World Food Program Ethiopia has dispatched a convoy of aid trucks for the people of the Afar region too. "Convoy will arrive tomorrow in conflict-affected areas of zone 2 Afar. WFP & partners will continue responding to the urgent food needs of over a third of Afar's population & displaced families until safe conditions are created for them to return to their lives & livelihoods", says WFP Ethiopia.
Though not officially announced by any news source, it seems Tigray and Afar forces have agreed on a humanitarian ceasefire. TDF has not started its withdrawal from the Afar region so far. But delivery of aid to Afar Zone 2, where there is presence of Tigray forces, and the delivery of aid to Tigray through Afar zone 2 indicates that both Tigray and Afar forces have agreed to cease hostilities.