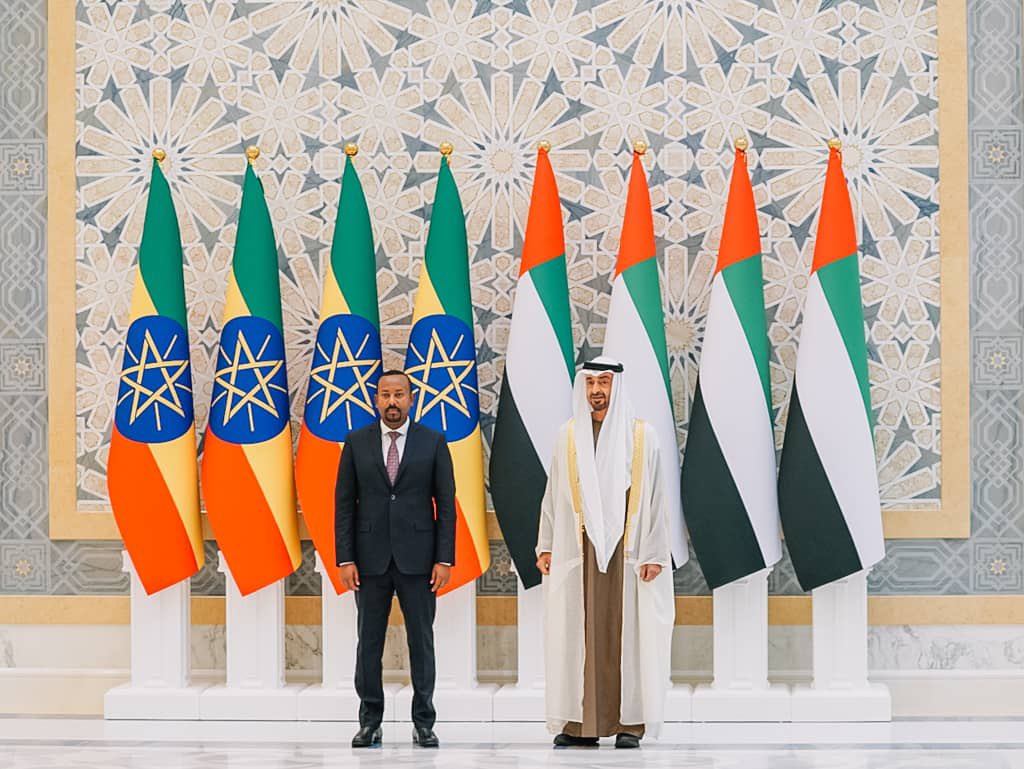 Ethiopian Prime Minister, Abiy Ahmad Ali, arrived in the United Arab Emirates (UAE) a few hours ago. The United Arab Emirates has been a key ally of the Ethiopian government in the ongoing Ethiopia-Tigray conflict. What are the main items on the agenda of PM Abiy's visit to UAE?
Ethiopia-Tigray conflict
Yesterday PM Abiy Ahmad chaired a meeting of the top Ethiopian security body. Action against Tigray forces came under discussion as fighting still rages on in Tigray-Amhara and Tigray-Afar border areas. That is why speculations have been going around since last night that PM Abiy Ahmad was due to travel to UAE to buy more drones. Drones from UAE & Turkey have played a key role in pushing TDF back into Tigray.
But Ethiopian government is in the phase of reviving its economy. It wants to rehabilitate millions displaced. It is trying to repair its fractured ties with the US and Western countries. The chances of a new military offensive on Tigray are not very high.
Ethiopia-Sudan border dispute
UAE's name as a mediator has been heard in connection with the Ethiopia-Sudan border conflict too. Last year Sudan took advantage of the Tigray conflict and captured the Al Fashaga triangle on the Sudan-Ethiopia border. Since then Sudan-Ethiopia bilateral relations have been strained.
UAE-Houthi hostilities
In recent days, UAE-Houthi hostilities have intensified. Iran-backed Yemen-based Houthi fighters have struck UAE with missiles last week. Some UAE military flights have been seen leaving for Yemen from Ethiopia. The Ethiopian government has condemned attacks on UAE from Yemen, clearly aligning itself with UAE. In case of renewed UAE offensive on Yemen, Ethiopian airbases could be of help to the UAE.
Ethiopia-UAE investment in Somaliland
UAE's DP_World and Ethiopia are both shareholders in Somaliland's Berbera port. The port is operational. But projects are under construction to increase the ship-handling capacity of the port. Berbera-Ethiopia motorway is also under construction with investment from both Ethiopia and UAE. Berbera port project is of key importance for Ethiopia as it is a landlocked country. Ethiopia now mostly relies on Djibouti's ports for its imports and exports.
When Berbera port started its operations, it was said that UAE, Ethiopia, and Somaliland owned 51%, 19% & 31% shares respectively. But two days ago, a Somaliland minister said that UAE and Somaliland owned the port with 65% & 35% shares respectively.
Somaliland President Muse Bhi Abdi visited Ethiopia last week. After the visit, Ethiopia promoted its consul general in Somaliland to a full ambassador. Ethiopia is the 1st country that has appointed an ambassador to Somaliland. The move is being seen as a step towards the recognition of the self-declared country, Somaliland.
Ethiopian efforts to appease Somaliland and PM Abiy's visit to UAE are being seen as an attempt by the Ethiopian government to safeguard its investment in Somaliland.
With the Tigray conflict far from being over, the Ethiopian economy is in shambles. The government is in need of financial assistance for which the UAE could be of help.