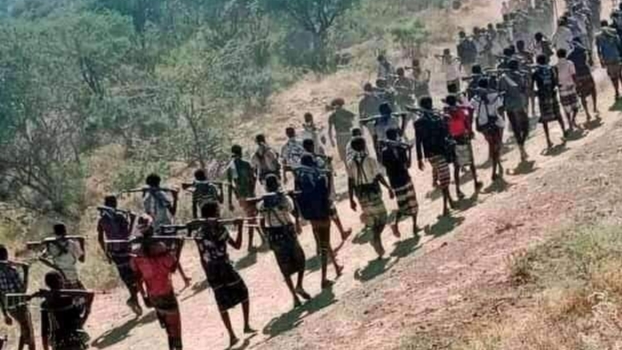 Tigray has declared war on "Red Sea Force" of Afar and Eritrea. Tigray regional government released a statement today announcing the start of a military offensive in the neighboring Afar region.
Intense fighting is being reported on the Tigray-Afar border. Tigray government says that in recent weeks despite provocations by Afar regional president Awol Arba, Amhara leaders, and the Eritrean government, it showed restraint. Afar fighters carried out several incursions into Tigray only 30 km away from capital Mekelle, claims the statement.
The statement attributes alleged Afar attacks on Tigray to the Ethiopian government's policy to block aid supplies to Tigray through Afar.
Eritrean military is leading "Red Sea Force" of Afars and Tigray will degrade the fighting capabilities of enemy forces, says Tigray.
Tigray government makes it clear in the statement that its forces do not intend to remain in Afar. It only wants to push rival forces from Tigray and from areas close to Tigray borders.
In July 2021, when TDF entered Amhara and Afar regions, it issued a similar statement saying that it wanted to degrade the fighting capabilities of enemy forces. But later after suffering military setbacks, it had to withdraw from Amhara and Afar regions last month.
It remains to be seen how deep Tigray fighters will go deep into Afar. Will the Ethiopian government deploy federal and other regional forces on this front?
Will Eritrea, which is a key player in this conflict from the outset, openly militarily support Afar forces?
The renewed Tigray Afar war border will further dim the prospects of aid delivery to Tigray. Very little aid has managed to enter Tigray in recent months. Tens of thousands are in dire need of humanitarian need in the region.
The new phase of fighting is going to lead to massive civilian displacements from Abala, Megale, Erebti, and Berhale woredas of Afar.
While the Ethiopian government says it is about to start a national dialogue to bring peace to Ethiopia, Tigray Afar war could jeopardize the start of the National Dialogue.