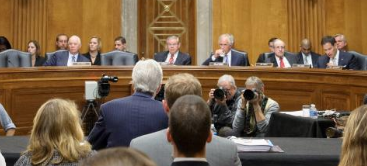 Another bill is going to be considered by US lawmakers tomorrow to impose sanctions on Ethiopia. Since November 2020, a deadly civil war has been raging in Northern Ethiopia. Thousands have been killed, tens of thousands injured, and millions in dire need of urgent humanitarian assistance.
The Ethiopian conflict, mostly centered in the Tigray region, was plagued by rampant human rights violations. UN and other Human rights organizations say that all parties to the conflict are involved in gross human rights abuses in the Tigray, Amhara, and Afar regions of Ethiopia. Read more..
The bill called S-3199 was introduced by US Senator Bob Menedez at Senate Committee on Foreign Relations in November last year. The bill calls for strict sanctions on warring factions in Ethiopia.
On March 23, Senate Committee on Foreign Relations will consider the bill. In case of approval of the bill at the committee, it will be submitted to Senate.
Last month, the US House Foreign Affairs Committee approved a similar bill called HR-6600. HR-6600 was proposed by congressman Tom Malinowski who is from New Jersey. It is pending with the US House of Representatives.
It seems Senate and House Foreign Affairs committees are working in unison to put pressure upon the Ethiopian government to negotiate a solution with rival parties.
The Ethiopian government has been trying to mobilize the Ethiopian diaspora community to protest against HR-6600 and S-3199. On Monday, a rally is due to be held by Ethiopian diaspora members in Washington DC.
Last year when Tigray forces were threatening to reach the capital Addis Ababa, Ethiopian and Eritrean diaspora members launched the #NoMore movement. Several protests, social media campaigns, and other activities were organized under the banner of NoMore. The movement proponents accused the US government of interfering in Ethiopian internal matters.
But this time Ethiopian diaspora community especially from the Amhara region seems to be split. Some diaspora activists are accusing Prime Minister Abiy Ahmad of betraying the people of the Amhara region.
Ethiopian Deputy Prime Minister and Foreign Minister Demeke Mekonen held a virtual meeting with diaspora members yesterday. Ethiopian ambassador to the US, Fitsum Arega, was part of the meeting too. The diaspora community was urged to unite in their opposition to HR-6600 and S-3199.