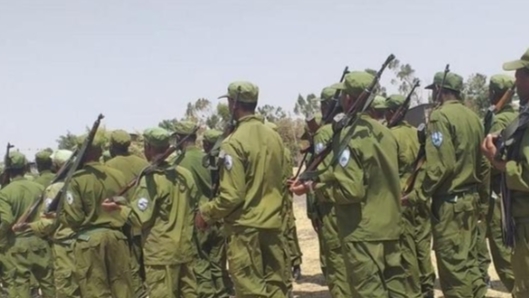 News: At least four persons have been killed in a bomb blast in the Oromia region of Ethiopia. The incident happened in Bulbula town on Saturday.
According to local sources, militia members are undergoing military training at Bulbula Military Training center in Bulbula town. The town is situated in the East Shewa Zone of the Oromia region. East Shewa Zone shares a border with the Oromia Special Zone which surrounds Addis Ababa, the Ethiopian capital.
The blast targeted a graduation ceremony. On completion of their training, militia members were participating in the graduation ceremony. But reportedly the bomb went off after the graduation ceremony had come to an end. Three militia recruits, one schoolboy were killed and more than 30 persons were injured.
News of militias being trained in the Oromia region to fight armed groups has been circulating on social media for months.
No armed group has claimed responsibility for the attack. An armed group called Oromo Liberation Army (OLA) has been operating in several parts of the Oromia region for years. But so far OLA has not issued any statement about the incident.
Woreda officials have not named any group either. According to a local administrator, three suspects have been arrested by security forces and an investigation is underway.
At the end of last year, in the East Shewa zone, several Karayu Oromo elders were extra-judicially killed by Oromia security forces. Last month, the Ethiopian Human rights Commission in a report urged the Ethiopian government to investigate the killing of Karayu Oromo leaders and bring the security officials to justice.