Eritrean President Isaias Afwerki is reportedly planning post-TPLF scenario. Tigray People's Liberation Front (TPLF) and Ethiopian federal government signed a peace agreement at the start of this month to end 2-year long conflict in northern Ethiopia. From day one since November 2020, Eritrea has been militarily involved in support of Ethiopian federal government in northern Ethiopia.
The peace agreement signed this month is being seen as an indication of limited future political and military significance of Tigray based TPLF in the Horn of Africa (HOA). From 1991 until recently, TPLF has been a major political force not only in Ethiopia but also in HOA. But disintegration of EPRDF and recent military setbacks suffered by Tigray forces point towards diminished role of TPLF in Ethiopian and HOA politics.
Eritrean President Isaias Afwerki is reportedly planning a post-TPLF scenario. He signed agreements with Ethiopia and Somalia in 2018 for economic integration and regional military alliance. Full details of the understandings reached back then were not made public. The agreements could not be implemented as war broke out in northern Ethiopia between Tigray forces and Ethiopian federal forces in November 2020.
At a meeting held in Balazar Eritrea a few days ago, the President urged military commanders to make preparations for implementation of regional accords signed in 2018. Some analysts say that Eritrean President is planning to establish a regional force. He is hopeful that Ethiopian and Somalia's governments will join him.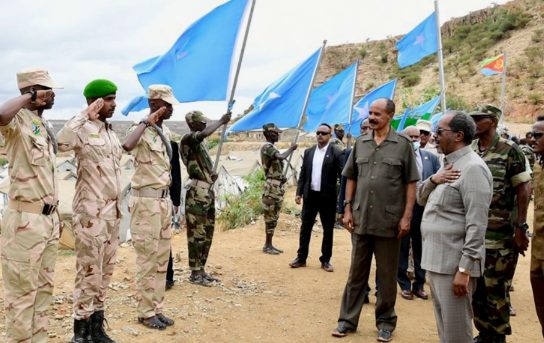 Eritrea is training Somalia's land, naval and air forces. Thousands of Somalia's troops are undergoing military training in Eritrea. Not only is Eritrea training but also arming them. Ethiopia relied on Eritrean military support in the 2-year long war against Tigray forces.
The contours of Eritrean President Isaias Afwerki's proposed regional force are sketchy. Reportedly Ethiopian air force, Eritrean and Somalia's infantry and navy soldiers will constitute this regional force.
Yesterday Eritrean Information Minister, Yemane Gebremeskel lashed out at US State Department. US State Department, Africa Bureau in a statement had urged Eritrean troops to leave Tigray region of Ethiopia. Yemane accused US State Department of hypocrisy and violation of international law. He said, "Defense architectures between sovereign African states is not subject to prior endorsement, or veto by extraneous powers".
Though Eritrean troops might leave Tigray partially, but Eritrean government seems to be planning a regional military alliance with Ethiopia and Somalia, which could include continued presence of Eritrean military in parts of Ethiopia.