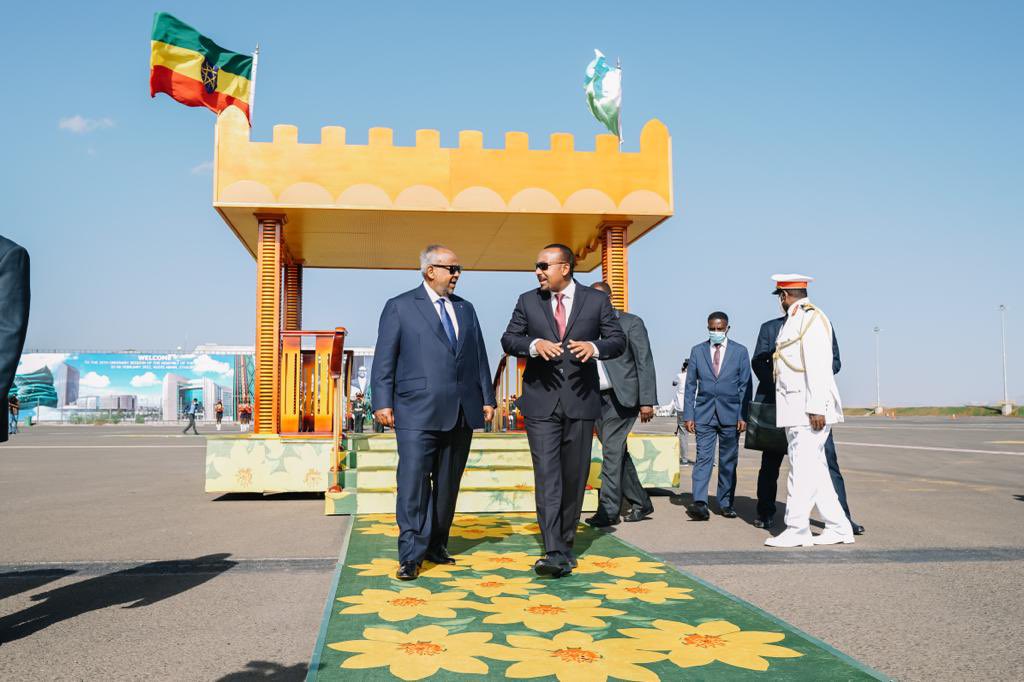 Djibouti President Ismail Omar Guelleh arrived in Ethiopia today. He was welcomed at Bole airport of Addis Ababa by the Ethiopian Prime Minister Abiy Ahmad. Several regional and bilateral issues are likely to come under discussion in the meetings in the next 2 days of Ismail Omar's stay in Ethiopia.
Djibouti and Ethiopia have strong economic ties. Ethiopia, being a landlocked country, relies on Djibouti's ports. More than 80% of Ethiopian imports and exports make use of Djibouti ports. In recent years, Ethiopia has been trying to diversify port use. It invested in the construction of Berbera port in the neighboring self-declared country Somaliland.
The two countries are facing some similar ethnic conflicts too. Afars and Somalis living in both countries have been involved in clashes. An opposition armed group based in the Afar region of Ethiopia, called Ugugumo, has long been accused of having carried out cross border attack in Djibouti. Afar-Somali Issa clashes have been reported in Afar-Somali border areas recently.
Djibouti is situated on one of the world's busiest shipping routes. It hosts military bases belonging to several countries including Germany, Spain, Italy, France, the United States, the United Kingdom, China, and Saudi Arabia. The bases are at a very little distance from one another. Russia and India also want to establish military bases there.
Chinese special envoy to the Horn of Africa, Xue Bing, has been seen visiting the Horn of Africa countries recently. He traveled to Eritrea, Ethiopia, Somalia, Kenya, South Sudan, and Uganda recently. Reportedly China is working to form an organization by the name of "Union of the States of the Horn of Africa" in this region. Xue Bing's recent visits were to convince the HoA countries to join the new organization expected to be announced in the coming months. Ethiopia and Djibouti could devise a joint strategy to be part of the organization, or not.
The US also appointed a Special Envoy to the HoA last year. David Satterfield is now working from the US side. The appointment of US and Chinese envoys to this region indicates the growing rivalry between world powers to have influence in the HoA.
Djibouti President Ismail Omar Guelleh is likely to discuss the ongoing Tigray conflict of Ethiopia too which has ravaged the Ethiopian economy. The conflict has indirectly affected Djibouti. Djibouti received much less revenue from Ethiopian use of its ports in 2021 in comparison with previous years mainly due to decreased economic activity in Ethiopia owing to the Tigray war. Three days ago, the Ethiopian government announced a humanitarian truce, but the 17-month long Tigray conflict is far from over. Read more…
The Ethiopian economy is faced with a crisis too. The country has around $1.3 billion foreign exchange reserves left, sufficient only to cover 45 days of imports. The cash-strapped Ethiopian economy is badly in need of foreign financial assistance.