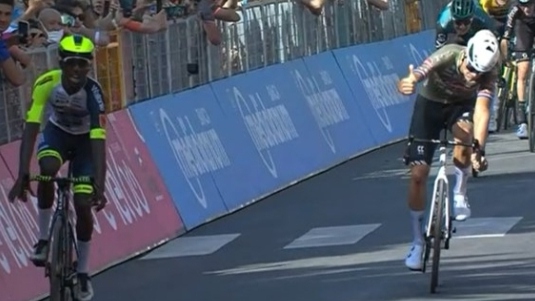 Eritrean cyclist Biniam Girmay today made history in Jesi Italy. The 105th edition of the Giro d'Italia kicked off on May 6 in Budapest, Hungary. The cycling championship will end on May 29 in Verona Italy.
The championship consists of 21 stages. The cyclists will cover the distance of 3445.6 km. Eritrean cyclist Biniam Girmay is part of Intermarché-Wanty-Gobert Matériaux team. On Tuesday, the 10th stage of the race came to an end.
The 10th stage ended with history made by the Eritrean cyclist. Biniam Girmay won the 196-km long 10th stage with an incredible sprint at the end. He is the first black African cyclist who has won a stage of Giro d'Italia.
Biniam's final sprint was so extra ordinary that the runner up Mathew Van Der Poel could not help appreciate it. He gave a thumps up to winning Binny.
22-year old Girmay is from Asmara. Asmara is the capital of Eritrea, a small country in the Horn of Africa. Eritrea's name is mostly heard in connection with ongoing conflict in the neighbouring Tigray region of Ethiopia. Read more…
Biniam had passion for cycling that reaches back before his 13th year. He travelled to the UCI's World Cycling Centre when he was still a junior and appeared on the cycling world's scene late last season, stamping his mark on the U23 World Championships with a runner-up finish.
In March this year, he took cycling world by storm when he became the first African to win the 78th edition of the 243-km long Gent-Wevelgem road cycling classic.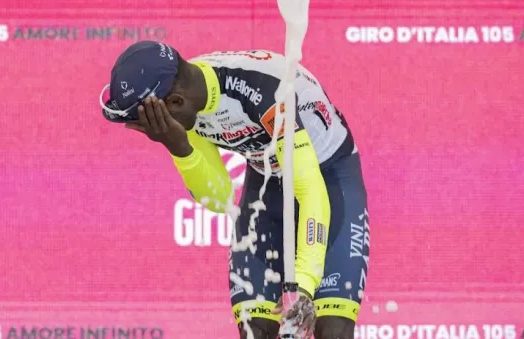 But his celebrations today were cut short when he accidentally popped a champers cork in his left eye. The 22-year-old cracked his eye with the cork as he failed to direct it away from his face as he unscrewed it. He was rushed to the hospital after celebrating his historic victory.