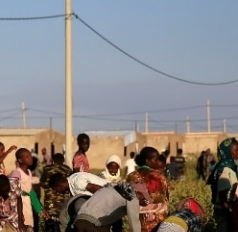 Thousands of Tigrayans deported from Saudi Arabia detained and disappeared in Ethiopia, says Human Rights Watch (HRW). According to the human rights body, since January 2021 the Ethiopian government has received thousands of Ethiopians deported from Saudi Arabia.
Deported Ethiopians were ethnically profiled and Tigrayans were singled out. In Addis Ababa, Jimma Oromia, Semera Afar, and in Southern Nations Nationalities and People's region, detention centers were established for these Tigrayans where they were mistreated and tortured in some cases, says HRW.
The Rights body says that it interviewed the deported Tigrayans who said they were kept in inhuman conditions in KSA and upon arrival in Ethiopia, government officials took them into custody arbitrarily and restricted their movement towards Tigray.
Since the start of Tigray conflict in November 2020, International Human Rights Organisations and Ethiopian Human Rights Commission (EHRC) have been reporting that Tigrayans are being ethnically profiled. EHRC in a report in November 2021 confirmed that Tigrayans were being arbitrarily arrested and kept in detention in the Ethiopian capital Addis Ababa and other places.
So far Ethiopian government has not responded to Human Rights Watch's report.