Oromo Liberation Army (OLA) has rejected mediation by local Oromo leaders called Aba Gadas. In a statement issued today, the armed group accused Aba Gadas of creating discord among group's commanders.
Oromo Liberation Army, led by commander Kumsa Dirriba Jaal Marroo, has been fighting in the Oromia region of Ethiopia for around 3 decades. The armed group has tens of thousands of trained fighters who operate mainly in western, southern, central and eastern parts of Oromia. Read more…
This month, conflict in northern Ethiopia between Tigray People's Liberation Front (TPLF) and Ethiopian federal government ended through dialogue held in South Africa and Kenya. Now it is being speculated that Ethiopian federal government's next target would be Oromo Liberation Army (OLA).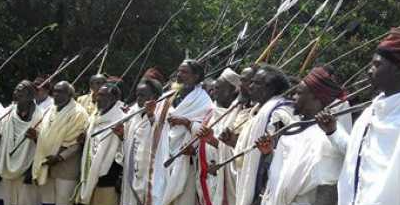 Oromo Liberation Army in its statement has accused Ethiopian government forces of intensifying attacks across Oromia. Instead of resolving the conflict through talks, the government has launched Oromo Aba Gadas who are sowing the seeds of discord among OLA commanders, claimed the group. Aba Gadas are Oromo traditional elders who play their part in resolving local conflicts.
"In today's polarized political landscape, finding a neutral third person in the country is a far cry from viable possibility", announced the armed.
OLA is demanding that mediation must be formalized and observed by neutral third states and mediators & negotiators must be facilitated to hold talks outside conflict areas. Oromo Liberation Army further said that only international actors could be guarantors for the enforcement of mediation agreement.
Ethiopian federal government and Oromia regional government have not said a word about start of talks or military action in Oromia. But it seems that Ethiopian government will try to weaken OLA through military action before the start of talks. According to some reports from the region, additional troops of Ethiopian federal forces are being sent to Oromia for the start of a major operation against OLA. Meanwhile OLA has intensified its attacks on government forces in western and central parts of Oromia.
It seems that Oromo Liberation Army wants a peace process similar to the one recently launched to resolve armed confrontation between TPLF & Ethiopian federal government. African Union, IGAD, US and UN were main mediators who resolved conflict in northern Ethiopia.