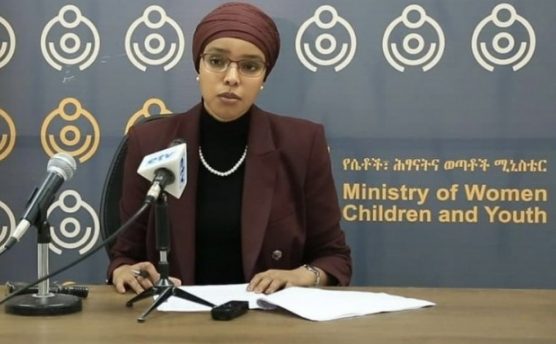 A former Ethiopian Federal Minister has called for international intervention and Dayton accord-type settlement in Ethiopia. Filsan Abdbullahi, also called Filsan Abdi, is an Ethiopian politician from the Somali region of Ethiopia. She served as Federal Minister of Women at Ethiopian Prime Minister Abiy Ahmad's previous cabinet. However, in September 2021, she resigned. She has released a statement about Ethiopia.
Filsan complains in the statement that she was alone in the corridors of power in Addis Abba when she was a minister because she was from Somali ethnic community. Small ethnic groups are marginalized in Ethiopia, she says.
With Nobel Peace Prize in one hand and a gun in the other, how can Ethiopian Prime Minister Abiy Ahmad bring peace? she argues in the statement. Ethiopian government's "law and order operation operation" in Tigray has led to a broken nation, she remarks.
Filsan Abdi is hinting at civil war in Ethiopia if the situation did not improve. She says that poor economic conditions and the proliferation of small arms in the hands of the different groups are a recipe for disaster.
Lastly, while dismissing Ethiopian Prime Minister Abiy Ahmad's peace overtures as superficial, she is urging the international community to intervene in Ethiopia. She is calling for a Dayton accord-type internationally-backed agreement in Ethiopia.
Filsan Abdullahi is the owner of a Somali language news channel called Nabad TV. Nabad TV is the first privately owned Somali language news channel. But the channel was closed by the Somali regional government in November 2021, accusing it of violating National Emergency law. Her parents were also detained but later released.
After serving as Minister of Woman with Prime Minister Abiy Ahmad for several months, she resigned in September 2021 before the formation of the new cabinet. Since then she has been leveling different accusations against the PM.