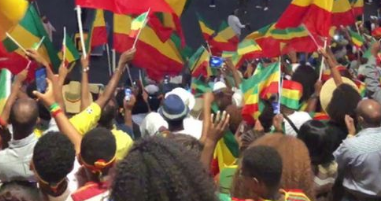 Ethiopian diaspora members are expected to hold protest rallies in Washington DC and Brussels on Thursday. The protest in Washington will be held in front of the US State Department. In Brussels, protesters will assemble in front of the European Union headquarters at Schuman Roundabout.
Ethiopian Prime Minister Abiy Ahmad arrived in Brussels Belgium today. He is due to attend the African Union-European Union summit there. This is the 6th such meeting between the two regional bodies.
While PM Abiy is in Brussels, Ethiopian Tigrayan diaspora members are expected to hold a large protest rally there against the Ethiopian government. Since November 2020, the Ethiopian federal government and its Tigray regional government have been involved in a deadly civil war.
Tigray accuses Ethiopian federal forces, Eritrean troops, and Amhara regional forces and militias of having committed genocide against Tigrayans. Despite repeated calls from the international community to find a peaceful solution to the conflict, fighting is far from over between Tigray & Ethiopian federal forces.
Tigray was put under humanitarian blockade when the civil war broke out more than a year ago. Since then a very small amount of humanitarian aid has been allowed to enter Tigray. Both Ethiopian federal and Tigray regional governments accuse each other of hindering much-needed aid supplies to Tigray.
While the protest in Brussels is going to be against the Ethiopian government, in Washington DC the protest will target Tigray People's Liberation Front and the US government. Washington DC's protest is being organized by pro-Ethiopian government diaspora members.
Last week, US Foreign Affairs Committee passed a bill calling for sanctions against all parties to the Ethiopian conflict that are hindering a peaceful solution to the conflict. The bill urges the American government to sanction those who are blocking aid to Tigray and those who are arming the parties to this conflict.
Ethiopian Foreign Minister Spokesperson, Dina Mufti, yesterday said that the bill would endanger the Ethiopian government's newly announced initiatives to bring peace. Ethiopia-US relations saw an improvement last month when Presiden Biden and PM Abiy held a phone call. Read more..
The bill (HR6600) will be tabled at the US House of People's Representatives. If passed by the House, it could lead to sanctions on the Ethiopian government and on other parties including Tigray People's Liberation Front (TPLF).
In Thursday's protest in Washington, Ethiopian diaspora members are going to urge US government not to consider HR 6600.