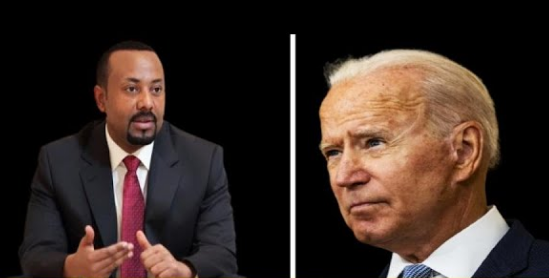 Ethiopia: Prime Minister Abiy Ahmad in a statement said today that he held a candid phone call with American President Joe Biden. According to a statement shared by the PM, their telephonic conversation focused on regional and bilateral issues and the two discussed ways to strengthen ties through constructive engagement based on mutual respect.
The White House has issued a detailed statement about the call. It says President Joe Biden spoke today with Prime Minister Abiy Ahmad of Ethiopia to discuss the ongoing conflict in Ethiopia and opportunities to advance peace and reconciliation.
President Biden commended Prime Minister Abiy on the recent release of several political prisoners, and the two leaders discussed ways to accelerate dialogue towards a negotiated ceasefire, the urgency of improving humanitarian access across Ethiopia, and the need to address the human rights concerns of all affected Ethiopians, including concerns about detentions of Ethiopians under the state of emergency.
President Biden expressed concern that the ongoing hostilities including recent airstrikes, continue to cause civilian casualties and suffering, and he reaffirmed the US commitment to work alongside the African Union and regional partners to help Ethiopians peacefully resolve the conflict.
Interestingly The White House avoided using the word "Tigray" or "Tigrayans" in the entire statement.
US-Ethiopia relations have been extremely strained since the start of the Ethiopia-Tigray conflict in November 2020. The Ethiopian government has been accusing the U.S. since then of backing Tigray People's Liberation Front and of interfering in Ethiopian internal matters.
At the start of this month, the U.S. suspended Ethiopia from AGOA (African Growth and Opportunity Act) citing human rights abuses.
But within the past 2 months, Tigray forces have suffered military setbacks and they have been pushed back into Tigray region. Since then Ethiopia-US relations seem to have been improving.