Ethiopia: Ethiopian air force carried out a drone attack on Mekelle city, capital of Tigray, a few hours ago. Reportedly the drone strike was conducted around 1:00 am local time on Saturday night.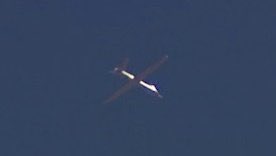 So far Ethiopian government has not issued any official statement in this regard. Tigray Presidential Spokesperson, Getachew Reda, in a tweet said that the drone attack was on a residential area in Mekelle city. He said that Ethiopian government forces were suffering losses in the ongoing fighting and being frustrated they were hitting residential areas by drone strikes.
The drone strike happened at a crucial time as African Union mediator Olusegun Obasano is in Mekelle city. Yesterday he met with Tigray leadership and officials of international aid agencies in Mekelle.
Tigray-backed news sources have not so far shared any footage from the scene of this drone strike.
In the past few days, several experts have confirmed that the Ethiopian government has obtained Chinese Wing Loong 1 and Turkish TB-2 combat drones. Earlier Ethiopian government bought Iranian Mohajer 6 drones but Mohajer 6, not widely battle-tested, could not help Ethiopian government forces achiever any battlefield advantage.