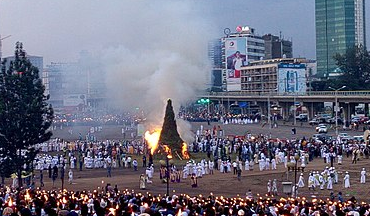 Meskel Square dispute between Ethiopian Orthodox Church and Addis Ababa city government continues. Today a meeting was due to be held in this regard in Addis Ababa, the capital city of Ethiopia.
Ethiopian orthodox church claims ownership of the Meskel Square in the Ethiopian capital Addis Ababa. The church elders have been protesting against the religious activities of other religious factions at the square.
Today's meeting could not be held as Orthodox Tewahdo Church representatives did not attend the meeting.
Addis Ababa city government has released a statement in this regard. The statement says that Addis Ababa government officials were present at the meeting venue waiting for the church elders. But church representatives did not attend the meeting.
The statement further says that Addis Ababa City Administration is ready to discuss and work together with Ethiopian Orthodox Tewahdo Church.
While a short while ago, the Ethiopian Orthodox Church synod said in a social media post that there was disagreement about the venue of the meeting. The church representatives do not want to attend the meeting at Sheraton Addis Hotel, the venue proposed by the Addis Ababa city administration.
Last month, when Protestant Church followers organized a fund-raising program at Meskel Square, there was a confrontation between the security forces of the city and the followers of the Ethiopian Orthodox Church, who opposed the gathering claiming that Meskel Square was the property of the Ethiopian Orthodox Church. Addis Ababa police used tear gas to disperse people at the square. Dozens were arrested too. Watch detail
It seems the church elders want Addis Ababa government officials to come to the Church office for talks but Addis city officials want to hold the meeting at a neutral venue.