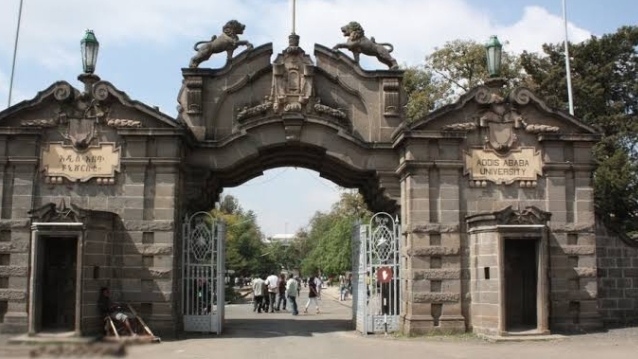 Addis Ababa University has imposed some restrictions on students. The students have been barred from wearing the Ethiopian flag, and T-shirts with pictures of Emperor Menelik.
The restrictions have come in the wake of protests on university premises. The protests were held due to some incidents during Adwa and Karamara celebrations in Addis Ababa last week.
In 1895, Ethiopian Emperor Menelik fought the battle of Adwa, the last and most decisive of a series of battles against the invading colonial forces of Italy. Italy had ambitions to bring the whole East Africa region under its control. After their defeat in Adwa in 1895, Italians recognized Ethiopia as an independent and sovereign state the following year.
Every year main Adwa celebrations are held at Menelik square in the Ethiopian capital Addis Ababa on March 2. The day is a national holiday. This year Addis Ababa and Oromia governments tried to change the venue of celebrations from Menelik square to Adwa bridge.
But after public outcry, the celebrations were held at two places in Addis Ababa i.e. Menelik square and Adwa bridge. During the celebrations, some participants chanted slogans against Adanech Abebe, Addis Ababa's mayor, who is an Oromo. Read more..
Emperor Menelik's legacy is viewed differently in the Oromia and Amhara regions of Ethiopia. Some Oromos claim Emperor Menelik committed genocide of Oromos during his rule.
Another ongoing controversy is the Ethiopian flag. The Ethiopian national flag has a star sign. But some groups in the Amhara region use the Ethiopian flag without a star sign.
During Adwa celebrations held in Addis Ababa participants held Ethiopian flags without a star sign. Some participants were seen wearing T-shirts with pictures of Emperor Menelik.
After Adwa celebrations of March 2, Oromo students protested on university premises. Some students wearing T-shirts with Emperor Menelik pictures were reportedly harassed and beaten.
New restrictions imposed on Addis Abab university reveal intensifying Oromo-Amhara ethnic tensions.
Last week, clashes erupted between Amhara and Oromo students at Wachamo university in Ethiopia's Southern Nations, Nationalities, and People's Region. Again the students of the two ethnic groups clashed over wearing T-shirts with pictures of Emperor Menelik.