Jawar Mohammed, top Ethiopian opposition politician, has warned government against use of force on protests in Oromia region.
Since Monday, huge protests have been ongoing across the Oromia region of Ethiopia. The demonstrations broke out after hundreds of civilians were killed in ethnic violence in Wellega zone of western Oromia on weekends.
Wellega has been destabilized for years, partly due to ethnic tensions between Amhara and Oromo groups. Oromia region-based groups and opposition parties say that last week, Amhara Fano militia entered Anger Guten, Kiremu and other towns and massacred local Oromo population. While Amharic sources accuse Oromia regional forces and fighters of Oromo Liberation Army (OLA) of having killed a large number of Amhara ethnic groups members.
Protests happening in Oromia are being led mainly by students. Oromo students are protesting at universities and other educational institutions of Oromia. In some towns and zones like Nekemte, Bishoftu, Arsi, Holata, Borena etc local population also took to the streets. Read more..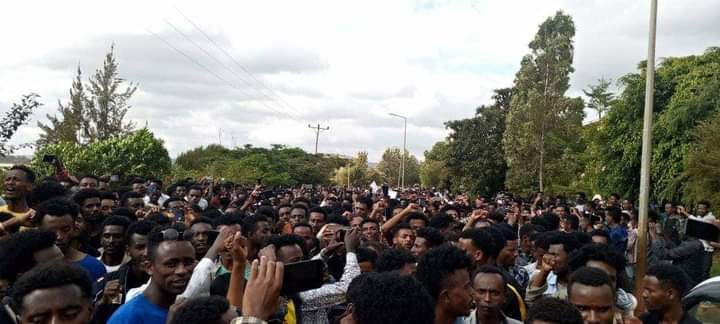 Jawar Mohammed's warning to the government came after reports came in of clashes between government forces and students at some universities especially Adama university in Oromia. He used the word "fire" for the protests. He said that the government should listen to the questions of the students. Warning the government he said that any government attempts to arrest students would invite more danger.
Jawar Mohammed led Qeerroo, Oromo protest youth movement, which removed EPRDF Prime Minister in 2018. EPRDF ruled Ethiopia for around 3 years starting from 1991. In July 2020, Jawar was arrested amid violence in the wake of death of iconic Oromo singer Hachalu Hundessa. He and other Oromo opposition politicians like Bekele Gerba were released from prison in January this year.
After his release from prison, he remained largely silent. He was elected vice chairman of Oromo Federalist Congress (OFC), Oromia region-based opposition political party this year. Some groups in the Oromia region claim that Jawar Mohammed is working in secret collaboration with Ethiopian federal government of Prime Minister Abiy Ahmed. Reportedly he is abroad these days.