The Ethiopian air force has conducted another drone strike on the Tigray-Afar border. According to Tigray-backed news sources, Mlazat town, situated in Tigray close to the Afar border, was hit by a drone strike. The strike targeted a minibus carrying some passengers. Tigray news sources are claiming that more than 2 dozen civilians were killed in the drone attack.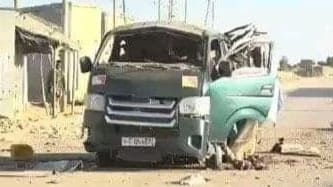 Tigray forces yesterday announced withdrawal from neighboring Amhara and Afar regions but the Ethiopian air force has not stopped drones strikes and airstrikes on Tigray. Several air raids were conducted yesterday on Alamata, Korem, Maychew, Mekelle, and Mlazat.
Will Ethiopian Federal and Regional forces stop their military operations while Tigray forces have left Amhara and Afar regions? If government forces continue their operations, how deep will they move into Tigray?
So far Ethiopian government has not issued any official statement about the drone strike on Mlazat village of Tigray.