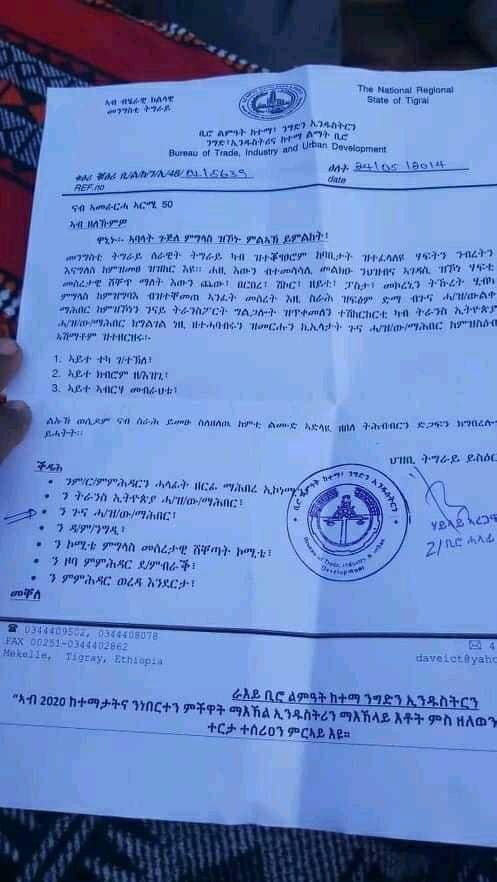 News sources backed by Ethiopia's Afar region have shown a leaked letter allegedly written by the Tigray government. The letter leak comes amid TDF's ongoing military operation in the neighboring Afar region. Afar regional government has been accusing Tigray forces of looting public properties since the start of TDF's attack on Afar last month. Read more
The letter has been written by Tigray's Bureau of Trade, Industry, and Urban Development. It is addressed to Army 50.
Afar news sources claim that the letter is proof that Tigray fighters are looting people's properties in the Afar region. The letter says that Tigray forces should bring all necessary food materials like salt, sugar, etc, and non-food materials from Afar.
Names of two transport companies are mentioned in the letter. Through this letter, the Tigray military has been told that it should coordinate with Guna PLC and Trans Ethiopia PLC to transport food and non-food materials from the Afar region to Tigray, claim Afar activists.
The Tigray government has not officially acknowledged this letter so far. But Tigray forces were accused of looting food and non-food items from the neighboring Amhara region last year.
Tigray region has been under a blockade since 2020. Very little aid is being allowed to enter the region. The Ethiopian government has been accused by the UN and aid agencies of deliberately blocking aid to Tigray. Humanitarian organizations are warning that tens of thousands of people in Tigray are in dire and immediate need of food.
A humanitarian crisis is worsening in the Afar region too. Last month Tigray announced to launch a military operation in Afar in retaliation for alleged incursions into Tigray from Afar. Since then around 300,000 have been displaced in five woredas of the Afar region.
Yesterday Afar regional government said in a statement that Tigray forces had taken control of Abala, Megale, Erebti, Konneba, and Berhale woredas of Afar.