Somali President Abdullahi Farmajo has suspended Prime Minister Mohammed Hussein Roble. According to a statement issued from President office, PM Roble has been suspended over corruption allegations. Two days ago, head of Somali coastguard Brigadier General Abdihamid Mohammed Dirir levelled serious allegations against Prime Minister Roble. He accused the Prime Minister of trying to seize state land of Somali coastguard for his private use. The land is situated near Mogadishu airport.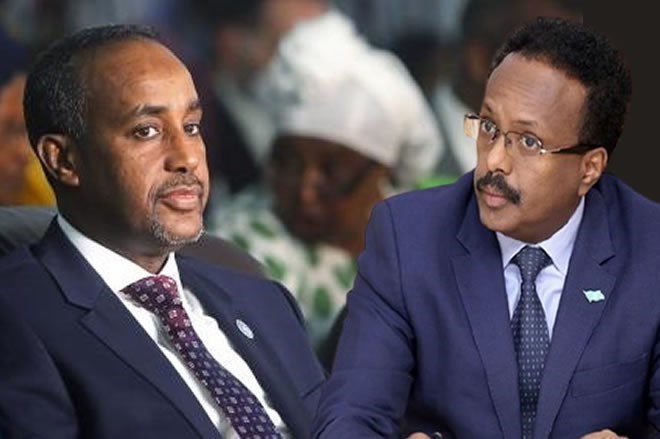 President Farmajo has suspended Brigadier General Abdihamid too and a formal inquiry has been ordered into the allegations levelled against PM Roble.
Yesterday President Farmajo issued a statement accusing PM Roble of overstepping his mandate of leading election process. In response Prime Minister Roble also released a statement and accused President Farmajo of using money, time and influence to prolong his stay in office. President Farmajo's and Somali Parliament's terms expired several months ago. But Presidential election has been delayed due to disagreements between President Farmajo, some regional leaders and other presidential candidates.
PM Roble yesterday suspended 7 members of Election Dispute Resolution Committee, which led to further friction between the President and the PM.
Prime Minister Roble had announced to chair a meeting of National Consultative Council (NCC) about election process today. US, US and Norway in recent hours backed the holding of NCC meeting. But before that PM Roble has been suspended by the President.
Can Somali President legally suspend the Prime Minister while Somali President's term has expired? Will PM Roble and Regional government accept this decision?
It seems that at the heart of President Farmajo's decision to suspend PM Roble is Presidential Election.