Russia says that some areas, which are held by Ukrainian forces, are part of Luhansk People's Republic (LPR) and Donetsk People's Republic (DPR).
Last night Russian President Putin signed a decree recognizing LPR and DPR as independent states. UN Security General Antonio Guterres condemned the Russian decision calling it a violation of Ukraine's territorial sovereignty. US is mulling stringent sanctions on Russia, LPR, and DPR. Germany, the UK, France, and several other countries regretted the Russian decision. China did not take any position hostile to Russia at the UN Security Council session held last night.
But today Russia went a step ahead. Russian government spokesperson Dmitry Peskov today said that the Russian decision of recognition of LPR and DPR applied to all areas that were part of the two states in 2014.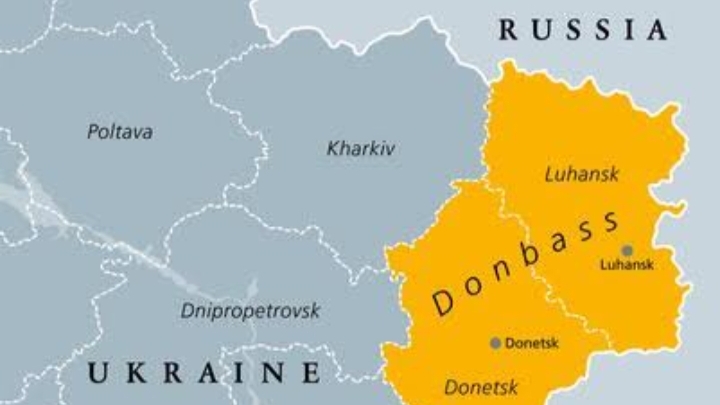 In 2014, the pro-Russian Ukrainian President was removed from power. Eastern Ukraine with the majority of ethnic Russians became destabilized. Russia militarily intervened and took control of Crimea. A Russia-backed uprising in the Donbas region of Eastern Ukraine turned into an armed confrontation. Since then 14000 have been killed in the Luhansk and Donetsk areas of Donbas.
After the announcement of independence by LPR and DPR in 2014, Ukrainian forces launched a military offensive and pushed Russia-backed separatists from several areas towards the Ukraine-Russia border.
Since last night, the international community has been urging the Russian government to reverse its decision of the recognition of LPR and DPR. Instead of revoking its decision, Russia wants Ukrainian forces to withdraw from more areas situated to the west of Luhansk and Donetsk.
Last week Russia announced that it was withdrawing some troops from the Ukrainian border. There are around 150,000 Russian troops deployed to the north, east, and southeast of Ukraine. But the annoucement did not lead to any de escalation on the ground. Read more
With the recognition of Donetsk and Luhansk by Russia, tensions between Ukraine and Russia have reached an all-time high.
Volodymyr Zelensky, Ukrainian President made it clear in a televised address late last night that Ukraine would not give up its land. "It is 2022, not 2014", Zelensky said in his speech.
The course of the Russia-Ukraine conflict is going to be determined by the Ukrainian response to the Russian recognition of Luhansk and Donestk as independent countries.