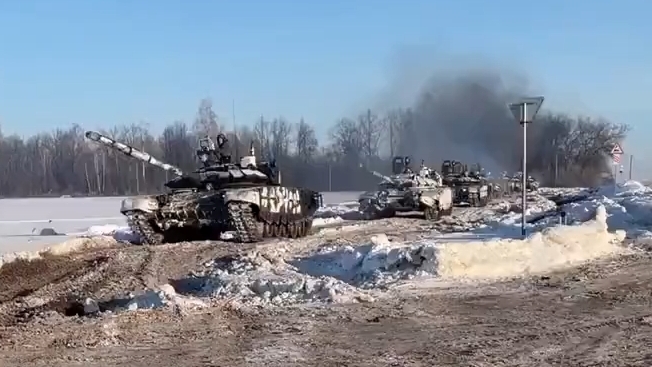 Russia has started pulling back its troops from the Ukraine border. According to a statement by the Russian Ministry of Defence, some southern and western units are withdrawing to their home base in Russia.
The Russian news channel RT has shown columns of military tanks withdrawing from some places. Russian officials say that some units are being withdrawn because they have completed their drills. But still, tens of thousands of Russian troops are deployed along the Ukraine-Russia border, in Crimea and Belarus. Ukraine has also stepped up the deployment of its troops and weapon platforms to Donbass region close to disputed Luhansk and Donestk. Read more..
Troops withdrawal has come at a time when German Chancellor Olaf Scholz is in Russia. Olaf reached Russia after concluding his visit to Ukraine.
Germany is said to be yielding some leverage to convince Russia to de-escalate the situation. Russia is about to start export of its natural gas to Germany through the multi-billion dollar Nord Stream II gas pipeline. The construction of the pipeline has been completed.
Ukraine responded to the Russian announcement of troops withdrawal by saying that it along with western allies had stopped Russian aggression. Interestingly last night Volodymyr Zelenksy, the Ukrainian President, said in a statement that he had been told Russia would invade Ukraine on February 16.
It would be premature to conclude that Russia is going to withdraw all its troops from the Ukraine border. But keeping tens of thousands of troops in a state of high alert requires mobilization of lots of resources. Therefore Russia will choose between invasion and complete withdrawal in the coming days.
Russia officially denies any plans to attack Ukraine. It wants to guarantee that Ukraine will not become part of NATO (North Atlantic Treaty Organisation).
Yesterday Ukrainian ambassador to the UK said that Ukraine was ready to give up its bid for the membership of NATO if that would stop Russia from attacking Urkaine. But the ambassador later revoked his statement saying that the statement was being misintepreted.