Ethiopia: Fighting between Tigray & Afar forces is escalating. Armed hostilities are being reported in several woredas of the Afar region. On these fronts, there is no deployment of the Ethiopian National Defence Force (ENDF) to support Afar forces. Is Ethiopia betraying the Afar region?
In October last year, Tigray forces were advancing towards Ethiopian capital Addis Ababa, and strategic Ethiopia-Djibouti road in Afar. Afar regional forces and militias played a key role in pushing Tigray forces out of Afar and Amhara regions. While ENDF and Amhara forces seemed demoralized at times, Afar forces and militias held their ground. Ultimately Tigray forces left Amhara and Afar regions last month.
This week fighting intensified on the Tigray-Afar border. But so far no ENDF troops are deployed on the Afar front. Though there are no ENDF ground troops on the Afar front, Ethiopia's air force is backing Afar forces. Airstrikes and drone strikes in Erebti and Berhale woredas of Afar regions are being reported.
The Ethiopian air force is part of the Ethiopian National Defence Force. Therefore it can be said that the Ethiopian Federal army is supporting Afar regional forces and militias.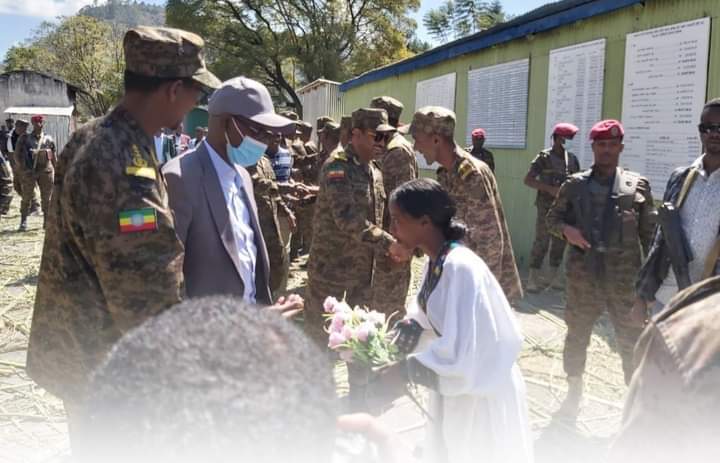 Secondly today an award distribution ceremony was held in Woldia city of the Amhara region. Members of ENDF were granted awards. Afar Regional President Awol Arba and ENDF General Abebaw Tadesse participated in the ceremony. Their participation in the ceremony indicates that there are no serious disagreements between ENDF and Afar.
The decision not to deploy ENDF troops on the Afar front is a deliberate decision. Both Ethiopia's Federal government and Afar regional government are on board. Since Tigray-Afar fighting is mostly in border areas, ENDF troops are not being deployed.
It seems that in case of TDF's advance deep into Afar, Ethiopian federal troops will be deployed. So far the Ethiopian government and ENDF do not see Afar-Tigray fighting as a major threat to national security.