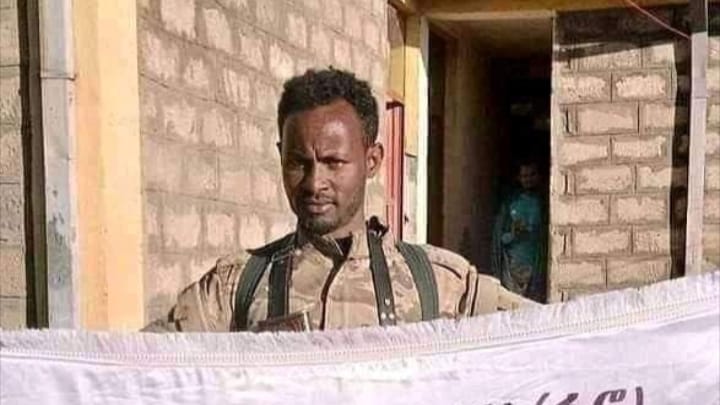 A coordinator of the Fano Amhara militia has been killed in an armed confrontation with regional security forces in the Amhara region of Ethiopia. The incident happened in Mota town, situated in the East Gojjam Zone of the Amhara region.
Fano Amhara militia, formed more than three decades ago, came under the spotlight during the ongoing Tigray conflict. The organization takes credit for pushing Tigray forces out of the Amhara region last year.
But since the military retreat of Tigray forces from the neighboring Amhara region, the militia has been under pressure. Fano Amhara has no central organisation. Multiple Fanos are operating in different parts of the Amhara region. Local commanders are in charge of these Fano factions. Ethiopian Federal Intelligence Agency and government officials have been calling for disarming of the militia.
The incident that happened in Mota town is the first major armed confrontation between the armed group and government forces. Mezgebu, a local Fano coordinator, and several officials of Amhara security forces were injured in the shootout. Mezgebu was shifted to a hospital in Bahirdar where he succumbed to injuries.
Several officials of the regional security force were also killed. Local armed Fano members gathered in Mota town in large numbers. Police arrested some Fano members. But armed Fano members blocked roads in Mota town. Later police released detained Fano members.
A day earlier, all main members of South Wollo Fano were arrested by members of the Ethiopian National Defence Force (ENDF). Armed Fano members were on their way to fight against Tigray forces in the Raya zone. They were intercepted by ENDF in Wurgessa town where they were disarmed and detained.
Ethiopian Federal Government has adopted a very cautious policy about Fano. It used Fano against Tigray forces but it does not want Fano to be turned into a huge armed pressure group. The same is the strategy of the Amhara regional government which encouraged Fano's recruitment and training activities when fighting was happening inside the Amhara region but did not provide Fano with any heavy weapons.
After the retreat of Tigray forces from the Amhara region in December last year, Fano stepped up its recruitment and training activities. Some zonal authorities showed concerns about Fano's activities.
At the start of this year, Abdul Hussein, the Regional Administrator of the South Wollo zone, said that Fano was a matter of concern for South Wollo. In Baso Liben woreda of East Gojjem zone, police dispersed Fano recruitment and training activities and arrested several Fano trainers. But zonal authorities could not take any effective measure as Amhara regional government announced that Fano would not be disarmed and recruitments would continue. Read more..
In January this year, Temesgen Tiruneh the head of Ethiopian Intelligence Agency NISS spoke about informal/irregular militias. He implied that some groups only fought on Facebook and YouTube and had no role in actual battle. Temesgen Tiruneh did not name any group in his speech. But his words were clearly directed against the Amhara Fano militia. Temesgen had further said that there would be security measures against these groups.
In February, Fano held its first joint meeting. The meeting was held in Qwara woreda which is in the North Gonder Zone of the Amhara region. Qwara was selected as the venue due to its historic significance. The woreda is the birthplace of Ethiopian Emperor Tewodros.
Fano factions from Gojjem, Gondar, Jawi, Mulat Adnon Fano, Aysheshm Fano took part in the meeting. A Fano group, led by its commander Gemechu, from the neighboring Benishangul Gumuz region of Ethiopia joined the meeting too.
It seems that the Ethiopian Federal government and Amhara regional government officials have decided to bring the Fano militia under government control. Practical steps are being taken to disarm Fano. The measures could lead to a serious backlash in the Amhara region where Fano has huge support.