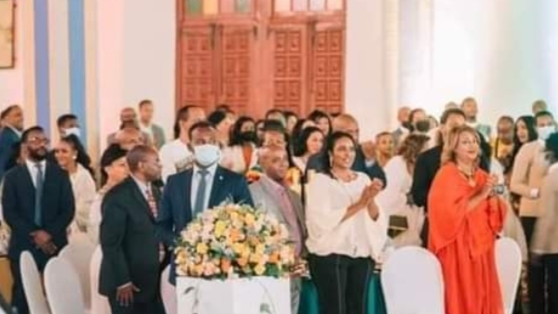 The Ethiopian government has earned around $800,000 from a dinner organized for diaspora members in Addis Ababa today. Last month Ethiopian Prime Minister Abiy Ahmad invited Ethiopian diaspora members to spend the Christmas holidays in Ethiopia. A large number of Ethiopians from the US and Europe are in Ethiopia these days.
The dinner was organized at Grand Palace in the Ethiopian capital Addis Ababa. The tickets for one seat at the dinner cost between $300-1000. Prime Minister Abiy Ahmad and top government officials also attended the dinner.
PM Abiy greeted diaspora members in his speech. He said that Ethiopian diaspora members had helped the Ethiopian government financially and diplomatically in time of need.
The Ethiopian government is in need of financial support from the diaspora. At the start of this month, the US removed Ethiopia from AGOA (African Growth and Opportunity Act) over the poor human rights situation. Under the agreement, Ethiopian textile, leather, and other products had duty-free access to the US markets.
Yesterday Melaku Alabael, Ethiopian Minister of Industry, said that Ethiopia was finding it difficult to export 64% of its leather materials like skins and hides due to the suspension of AGOA.
While the economy looks under visible stress, the Ethiopian government is hoping to receive financial support from diaspora members. Ethiopian economy has taken a serious hit due to Ethiopia Tigray civil war. The conflict started more than a year ago and it is far from over.