Ethiopia congratulated Eritrea on Eritrean Independence Day, Ethiopian state media confirmed today. Eritrea gained independence from Ethiopia in 1991. On 24 May, Eritreans in and out of the country celebrate independence day.
On Tuesday, Eritrea celebrated its 31st Independence Day. Biggest celebration in Eritrea was held at Asmara stadium in capital city.
After years of diplomatic tensions between Ethiopia and Eritrea, at a summit on 8 July 2018 in Asmara, Eritrean President Isaias Afewerki and Ethiopian PM Abiy Ahmed pledged to restore diplomatic relations and open their borders to each other. The next day, they signed a joint declaration formally ending the Eritrean–Ethiopian border conflict.
It is said that Eritrean President Isaias Afwerki and Ethiopian Prime Minister Abiy Ahmad jointly planned military offensive on Tigray in November 2020. Since then Ethiopia-Eritrea relations have been largely friendly. Tigray accuses Eritrea of undermining efforts to resolve Tigray conflict peacefully. Read more..
Speculations have been going around recently that Ethiopia-Eritrea relations are strained. According to some sources, Ethiopian federal government is not happy with Eritrean attempt to forge alliance with some groups in the Amhara region.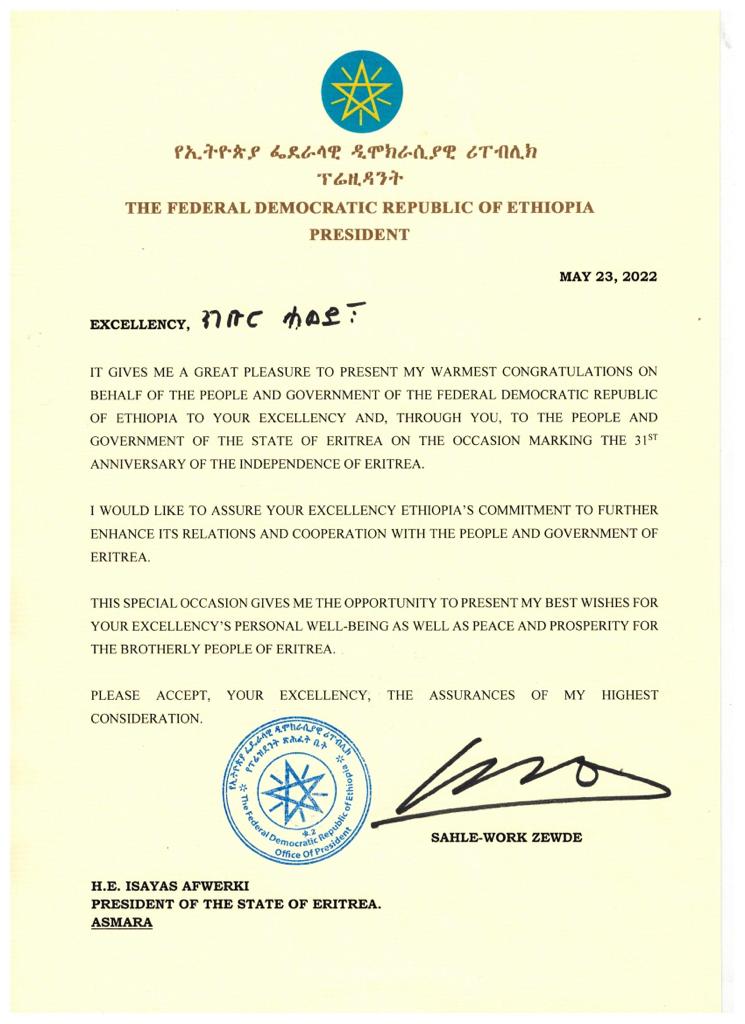 But Ethiopian state media today confirmed that Ethiopia sent congratulatory messages to Eritrea on Eritrean Independence Day.
On 23 May 2022, Ethiopian President Sahlework Zewde shared a congratulatory message with Eritrean President Isaias Afwerki. Wishing peace and prosperity for the people of Eritrea, she reiterated the Ethiopian government commitment to enhance bilateral relations.
On 21 May 2022, Ethiopian deputy prime minister and the foreign minister Mr. Demeke Mekonen sent a congratulatory message to Eritrean foreign minister Osman Saleh. " I am confident that our brotherly ties and excellent cooperation between our two countries will be further developed and fruitfully strengthened in the years to come for the mutual benefit of the people", said Ethiopian foreign minister.
Ethiopian Prime Minister Abiy Ahmad, who is seen as Eritrean ruler Isaias Afwerki's close friend, did not send any message of congratulation.