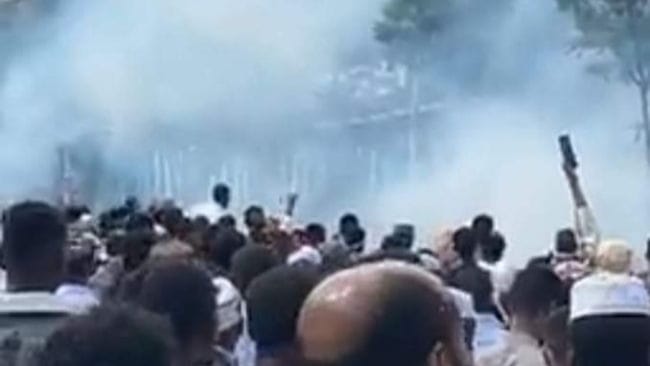 Addis Ababa: Muslims held a large Eid gathering today in the Ethiopian capital Addis Ababa. Reports are coming in of gunfire, tear gas use, and clashes from the gathering site.
The Muslim community in Ethiopia and the neighboring countries is celebrating Eid ul Fitr today. Muslims celebrate this religious festival at the end of month-long fasting. On Eid day, Muslims hold gatherings in mosques and open places to offer Eid prayer.
In Addis Ababa, Muslims offer Eid prayer at Addis Ababa stadium where tens of thousands gathered in the morning. But today's prayer was disrupted due to the sounds of sudden gunfire and tear gas firing.
Addis Ababa police have issued a statement confirming a riot and property damage during Eid gathering. " property has been damaged due to the disturbance caused by some individuals during Eid Salah, a few people have been injured in a riot around the Martyrs statue before the Eid Salat prayer. As the people are now calmly returning to where they came from, the Addis Ababa Police will call for society to protect themselves and the environment", says Addis Ababa police.
Ethiopian Communication Ministery spoke in detail about developments in the capital city. The ministry blamed "historical enemies with internal agents" for the disturbance. The statement mentions the recent religious conflict between Muslims and Orthodox Christians in Gondar city of the Amhara region, in which around 2 dozen, mostly Muslims, were killed and dozens injured. After the Gondar incident, religious tensions were seen in Silte, Dire Dawa, and other parts of Ethiopia too. Read more..
The overall picture of today's unrest in Addis Ababa remains sketchy. But eyewitnesses say they heard gunshots and tear gas was fired by security forces. The incident happened close to Red Terror Martyrs' Memorial Museum which is situated close to Addis Ababa's famous Meskel Square.
After gunshots and tear gas firing, the prayer gathering was disrupted and a scramble ensued with people rushing to flee the spot. Dozens of parents lost their children. Government forces are trying to control the situation.
After last week's religious violence in Gondar city, Muslim protesters accused Amhara region-based militia Fano of having committed the massacre of Muslims. Fano denies the allegations.